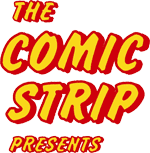 Adrian Edmondson plays a Postman called... wait for it... Mr Bean! This was at least 5 years before Rowan Atkinson made the name so famous. Mr Bean simply can't wait to finish his rounds so he can attend an unusually early screening of his favourite film, "The Sound Of Muzak". Little does he know thatRik is the owner of the Cinema and didn't actually expect anyone to attend a session at 9am on a Monday morning. Instead, he's anxiously awaiting the delivery of an 8mm porno that he intends to play at the patron-less session. He doesn't have a projector at home, but luckily he owns a cinema just 2 doors down. All he needs to do is keep his wife (Saunders) occupied by leaving her in charge of the candy bar, whilst he enjoys his Dirty Movie. Sadly for Mr Bean, not only is he going to miss out on Muzak, but he's also blissfully unaware that his wife (French) is leading a double-life as a porn star... and she's about to appear on the big screen.
Nigel and Peter portray the filth who have been ordered by their superior (Coltrane) to crack down on... filth! They have a strong suspicion that the proprietor of the cinema is dabbling in silent porn. After a brief stakeout, they become hell bent on exposing Rik's perverted antics.
Ad blocker interference detected!
Wikia is a free-to-use site that makes money from advertising. We have a modified experience for viewers using ad blockers

Wikia is not accessible if you've made further modifications. Remove the custom ad blocker rule(s) and the page will load as expected.